This page was last updated: April 11, 2012
After leaving Leeuwin I was to grace the quaint village of Quakers Hill for the next 3 years at HMAS Nirimba where I became a MOBI of the Marine Engineering (Steam) 'clan'.

First ship posting was HMAS Parramatta, and a lovely 6 week ocean voyage to Hawaii and RIMPAC, a very good education into sea life. All in all I did 3 RIMPACs during my serving years.

While on the Parramatta I also saw 'Up Top' for 6 months twice,

From the Parramatta I went to the Derwent for a short stint as I was quickly posted to Cerberus after loosing half of my Right thumb in a lathe accident, but the good 'ol Grey Funnel line spared no expense as I had the best micro surgeon in Victoria sew it back on for me and about 9 months at Cerberus, and the old thumb is still serving me well today.

From Cerberus is was off to HMAS Torrens for my 3rd RIMPAC and a stint up top before taking my elective discharge in 1981.

In civvie street I scored a job close to where I was living (Kogarah) at a auto parts manufacturer as a maintenance fitter which lasted about 8 months until I took off to the USA/Canada and Mexico for 3 months.

At a loose end for awhile settling down in Sydney so drove a cab for RSL Cabs for about 6 months until I got a job with Babcock Australia Ltd as a Commissioning Engineer, kept that job for about 4 years and worked on a variety of boiler plants, new and old around Australia. About this time I met my to be wife EID ('Er In Doors) aka Maz a nice lass from Newcastle, so the living out of a suitcase and motel accommodation was doomed to end, actually I was getting bored with the jetting around the country anyway.

In 1987 we drove over to the West where I took up employment with Alcoa of Australia as a PowerStation Shift Foreman at their Pinjarra refinery, bought a place in Mandurah and have sired one (1) son, male (to carry on the family name). He is now 15, going on 30, knows everything, beats the crap out of me on any PC game or format you care to mention, and is generally a bloody great kid.

Hobbies now include golf, painting/drawing, gardening and beer making, actually the brewing is the longest I have ever done a hobby ,strange that!!!

Have a menagerie of animals around the place, cats, snakes ,lizards, chooks, koi, goldfish and rats, well the rats ane not exactly pets but Eric and Mandy (the Carpet Snakes) have gotta eat....right??

Looking forward to the reunion in 08 and hope to remember a few distantly familiar faces.

Alan Hope                                                Morrow 1                                                Mandurah WA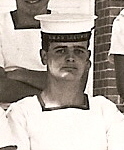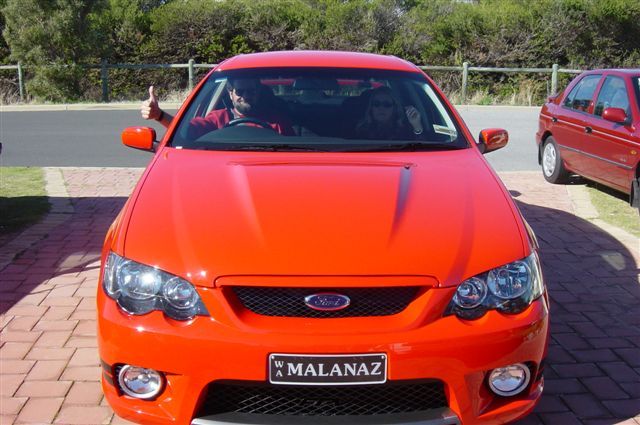 Phil Mckendrick                                    Morrow 1                                     Sydney

Ex WOMTP3 *

Vietnam Service medal    served on HMAS Vampire

Logistic Support medal

Australian Services Medal

Age 53 this September

left pussers in 1991 and joined the hotel industry.

For all you die hards I joined the New Nikko Hotel Potts Point where the old Chevron used to be.(it is now apartments know we all visited there during out time

I worked there for 3 years and then I joined the Regent Hotel in Circular Quay not far from the brooklyn hotel which I reckon we all know and visited lots in our days.

I have been here now for nearly 15 years and the old Pub has been renamed Fourseasons Hotel Sydney.It is Five stars and I have got to travel with the company over the years now to the following ports.(who said travelling was finished when you left.)

Jakarta for 6 months   1996

Ireland for 6 months   2001

Hong Kong for 6 months  2004

Cairo for 4 months    2005

Thailand for 5 months  2006/2007

Maldives after the tsunami for 6 weeks. 2006

I work about 12 hours a day and get little time to do the things i want to do but own my own boat and spend some time with the kids on this.I am in good health but have some Service issues that are being dealt with by DVA

Look forward to going to the re-union in 2008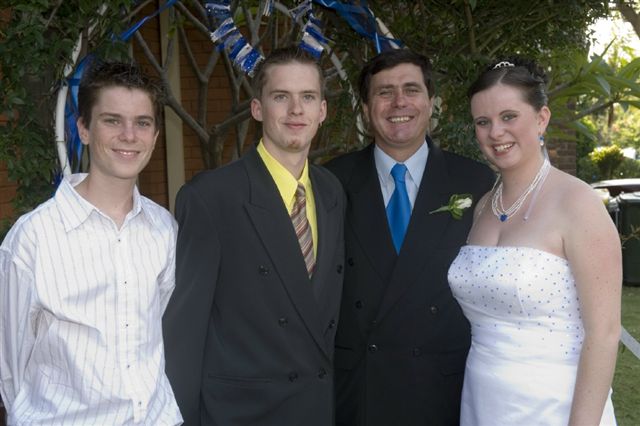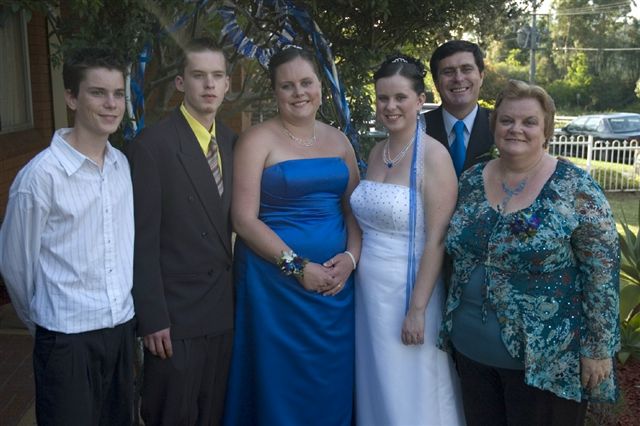 Stuart,  Grant, Phil , Beth

Stuart Grant,Amy,Beth,Phil,Tricia

Grandson Dylan and  Grand-daughter Chloe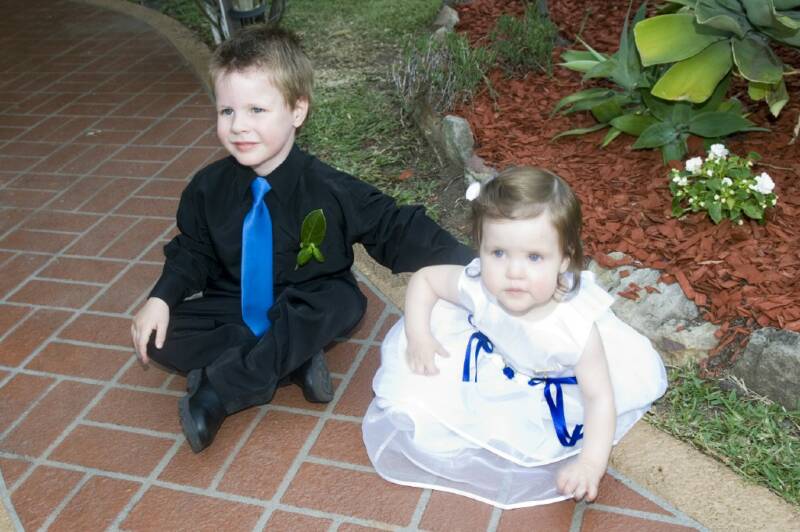 Graeme Higgs                            Marks/Topman                                Gold Coast Queensland

I am the Graeme Mark Higgs who joined Marks in 1971.  (R108824)   So I guess I am one of your lost guys.  I became a Topman 6 months into my training and therefore didn't graduate with the rest of the division.  I didn't get the grades I wanted in my Topman studies (I drank too much - you know how it was!) and decided the Navy wasn't for me, leaving at the end of 1972. 

Since then life has been extremely good to me as I've wandered around this world.  Of course I still drink too much.  Some things never change - like always being ahead of time for everything, wearing highly polished shoes and well pressed, clean clothes!  Apart from running into Gus Monger some 10 years ago I haven't seen anyone since that time. (I think he remembered me because at 6 feet 4 four I'm hard to forget!)  Naturally I see Russ Crane on the TV from time to time.  He did well.  Perhaps I should have applied myself a little harder!

For the first 10 of the last 30 years I had a career in mechanical engineering, which I loved.  Me and making metal things go fast, just clicked.  Sadly ruptured discs in my back sustained in a motorcycle race crash ended that life.  However I reinvented myself as a senior manager, in the human services sector (where I met Gus Monger) first in training, then in employment, then disability and finally in men's health.  I am currently the Northern Australia manager for the Prostate Cancer Foundation of Australia - a useful position considering the age we all are!  I'm based in Brisbane and live on the Gold Coast.

It will be no surprise to you that in all of those roles my staff thought and still think that I come from another planet because of the level of organisation and process I insist on! 

I have been married to Karen for 26 years this year although, given the level of restlessness and wanderlust that has characterised my life, I have often wondered why she stuck around!  I have 2 grown up children Crystal and Trent who still live at home (the buggers won't leave!)  even though they're just about finished their uni studies.

My CEO is sending me to Perth next week for a conference and I hadn't been back to that city since JRTE days.  So curious I opened a website and lost a day looking around!

I've been a bit busy at work so I hadn't activated the membership but I would appreciate it if you could facilitate this for me.  I'd like to hear some more about what everyone did with their lives.  And I see there's a reunion coming up which would be a bit of fun to go to. 

I've attached a recent photo which proves that good times combined with wine daily and plenty of sun is really good for you.  Yes that hair is real and like everyone else I'm 53 this year!

Regards Graeme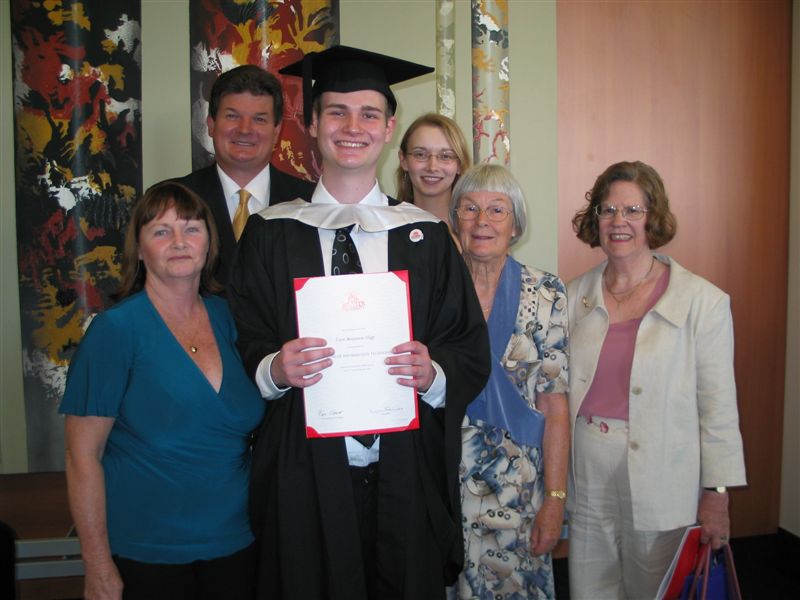 I don't have a single pic of me but I'll get one from somewhere.  In the mean time this is late last year when my son Trent graduated top of his year at uni, which means he's applied himself a tad more than his old man did!  He did IT and is now half way through his honours year.  And that means one day soon he may actually have to start working for a living!  Imagine 22 and he still hasn't earned a crust!  Geez my old man had it easy.  He stopped paying for me when I joined up at 15!

In the photo there's some very proud ol' dude in the back wearing a navy blue suit with highly polished black shoes in a style you know well. 

On one side of me is my daughter Crystal (who's just finishing a 6 year Science and Law degree) my mother Maureen (who's still waiting for me to amount to something!) and my Aunt, Margaret Scott (nee Higgs), who after the death of my Father from leukaemia, became the matriarch of the family.  

On the other side of me is my wife Karen.  Karen has had as tough a time with her health as I've had it easy.  (I never ever get sick, which I put down to a minimum of 2 bottles of wine taken daily.)  A former model and affirmed beach bunny when I met her, she's endured 2 major operations from the cancer that dogs her family, as well as battling a degenerative bone disease.  (Beginning to make a bit more sense why I ended up in Men's Health?) She has a bit of difficulty in getting around and long ago had to give up work.

We had a great day and much more than 2 bottles passed my lips.  My Aunt also had too much and offered to pay for a very expensive dinner in one the Coast's better restaurants.  So it was all good!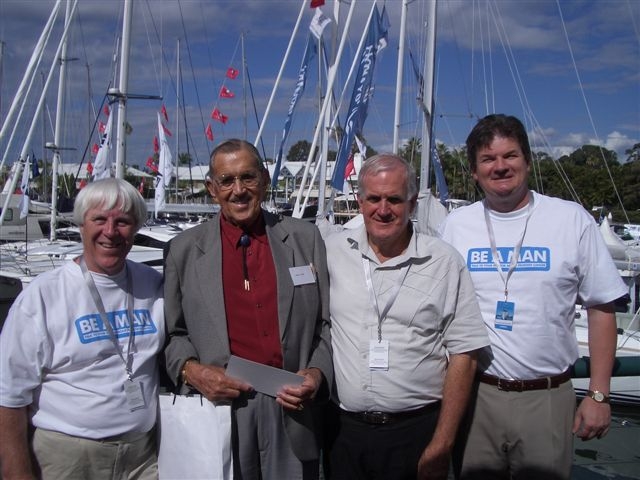 Hi guys  Another pic of me and my guys in late May this year.  The health forum mob seem to be quite worried about Prostate Cancer so this pic of me and a group of survivors (most over 10 years since surgery) might ease their worry a bit.  The photo is taken outside of my office at Sanctuary Cove on the Gold Coast.  We were there for 3 months as the charity of choice at the Sanctuary Cove International Boat Show.   Yeah it's a tough life but someone has to do it!   Seriously my short stint in the Grey Funnel Line continues to provide openings for me, which is quite amazing after all this time.  I haven't sailed outside myself since I was 48.  I used to go outside every year as a deck hand on someone's racing yacht but 5 years ago I suddenly realised that I was too old to work the coffee grinders and my navigation was always shit.  So these days it's a bit of mucking around in the bay only.

This pic is on day 4  of the show and everyone is sick of having their photo taken.  So to make them smile the photographer's assistant flashed her boobs at the crew.  Look at the smiles!  And this lot told me nothing worked anymore!  Bullshit!!!!  Cheers Graeme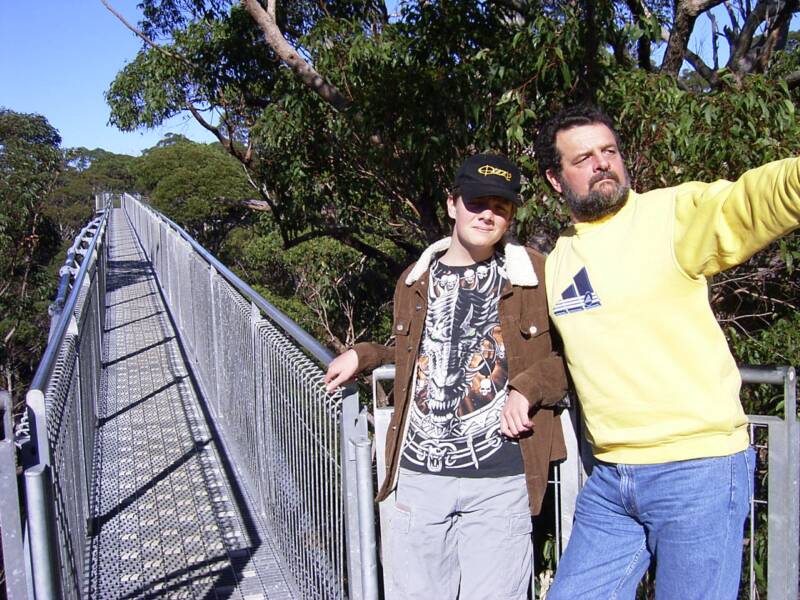 Trevor O'Riley (Thorn)                                    Morrow 1                                            Victoria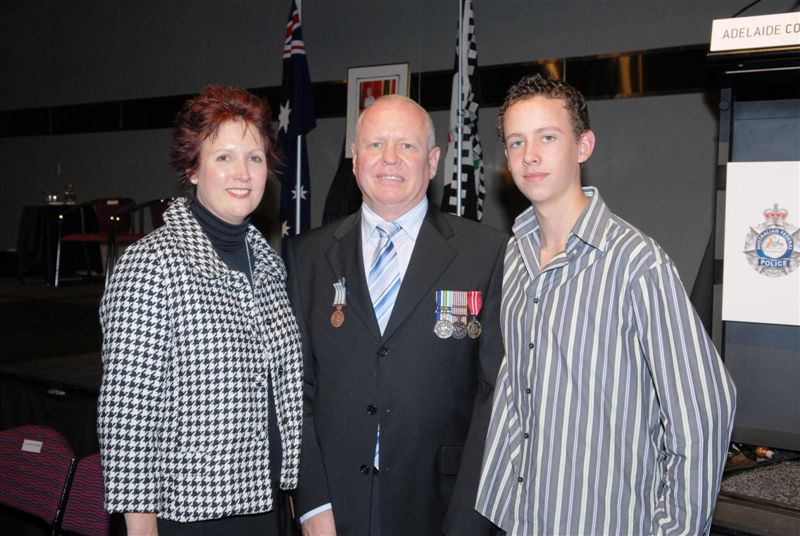 Jan 71 to June 75 – ABUW

After leaving Leeuwin my first posting was the Stuart which went up top a short time later. I was on Stuart with my brother Terry (ABUC - Morrow 30th) and a few of the guys from our intake. My memory's a bit fuzzy but I think John O'Connell was one initially posted to Stuart. It was a terrific trip and we had some great times up top.  My next ship was Parramatta for a short stint, while she was in dry dock @ Garden Island and then to the Derwent. During this period I finished my course and also completed a Ship's Divers course at Penguin.

After leaving Derwent I ended up at Penguin doing a Bubbly's course. While at Penguin I caught up with Mick Michlik, Foxy Cunningham and a few others from Leeuwin. Interesting times stepping ashore with some of these guys I can tell you. After completing the first 3 months of physical training on the Bubbly course I foolishly pulled the pin (with only 3mths of theory left) and decided the Navy was not where I wanted to be. I was posted to the Supply which is where I stayed until I left pussers in about June of 75.

After a couple of years doing various jobs I joined what was the Commonwealth Police in October 77. At that time they were snapping up any ex-service personnel to work in Canberra, which is where I ended up for two years. The job at that time was very similar in a lot of ways to the Navy. The only difference was if you worked after hours they actually paid you very well for it. The AFP has now evolved and gone through many changes (some good, some not so good) to be what it has become today. I'm sure you have all read various media releases relating to the AFP over the years. One of the major focuses is now obviously terrorism after 9/11 and the Bali bombings.  After leaving Canberra I moved to Adelaide where I have met some great people and been involved in many major narcotic importation investigations which is always very interesting and satisfying work. I have been in the outfit for over 30 years now and look forward to paying off in April 2010 when I will be eligible for a CSS pension. I hope to find work (if they'll employ me at this age!) for maybe three days a week after leaving the AFP). I also hope to play a bit of golf, social lawn bowls and follow the football (real footy not cross country wrestling!) and cricket.

On the personal front, I am married to my lovely wife Angela and have two great kids, Meggan (18) and Luke (16) both of whom I am very proud. Meggan is going to Uni this year and is an elite jumper (Triple and Long jump). She is currently being trained in Melbourne by a Russian coach and watch out for her name in the Commonwealth games in India (2010) and beyond. Luke is currently in year 11 and is taking up a school based apprenticeship as a motor mechanic. Like many kids his age he is also in to music and computer games.

Trev.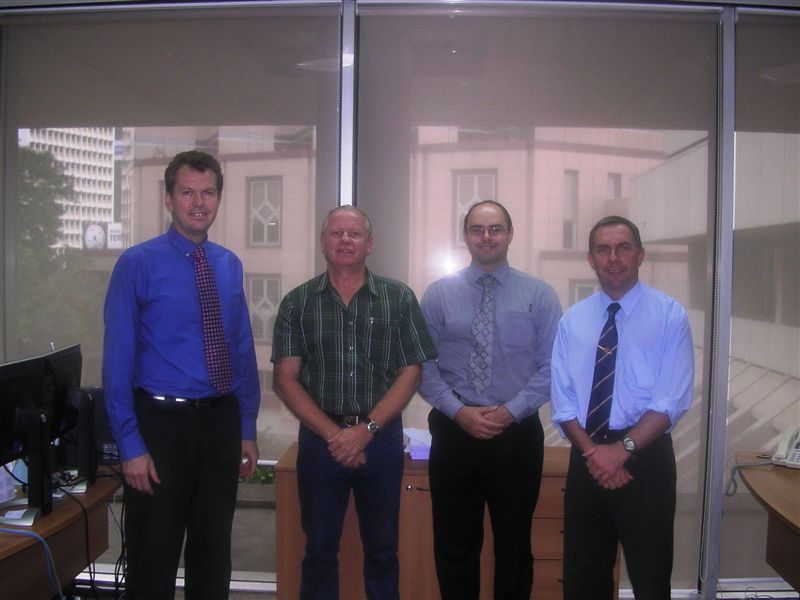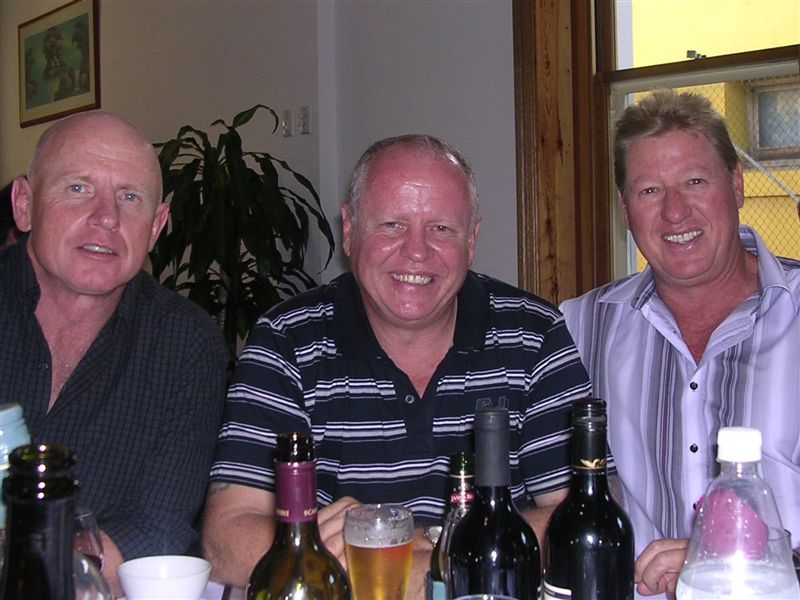 Trev second from left working in Kuala Lumpur

Terry O'Riley Morrow 30th    Trevor    Wayne Sands


A brief overview since Navy days. I left the Navy after 6 years, got married, and have raised a family of three kids, who are now all adults. My wife and I are now on the other side, with 2 boys moved out and 1 daughter who moved out a few years ago, but returned home. This coming June, we will have been married 31 years. Every moment has been wonderful, and I value the relationship Liz and I have. Employment history has consisted in working with people with intellectual disabilities for 18 years, both in the capacity as a registered male nurse and then in job and life skills training, still involved with people with intellectual disabilities. After 18 years, I followed a long time call of the heart (going back to childhood), resigned from my job and went into full time study at Tabor Theological College, where I obtained my Bachelor of Arts in Ministry. I have been working in pastoral ministry for the last 10 years, having pastored in one church and now currently at Playford Baptist Church in Elizabeth Grove,SA. Recently ordained, now known as Reverend Denis Hillson, but most folk in the church call me the "Rev."

Denis Hillson                                    Morrow 2                                            South Australia


Recruit/Officer Candidate Navy 1971-1974.  Received medical discharge, now on DVA disabily allowance.

In 1974, went to University of Adelaide and studied dentistry.  I didn't study hard enough and eventually left looking for another challenge.  I stumbled across the little known field of computing (it was a mathematical science back then) and became an Information Technologist.  Started as night shift operator, progressed to analyst programmer and eventually an IT Manager.  Also ran my own business as an IT consultant for a while in the 80's.  numerous positions within the private sector...particularly in Adelaide.  Was also IT Manager for Ayers Rock Resort and Hamilton Island Enterprises in the 90's.

Now single (divorced).  Married in 1976 for 17 years, 2 boys now 28 and 30.

Currently IT Manager for a privately owned agricultural company in NW Victoria.

Recent photo attached as well...not very flattering I guess, but I haven't aged gracefully!!  By the way, I've got numerous photos from the "old" days, but most are probably from my Topman period.  I'll dig through the archives and see if there's anything that might be relevant to Marks/Morrow 34th.

Peter Monck                                  Morrow/Topman                                            Victoria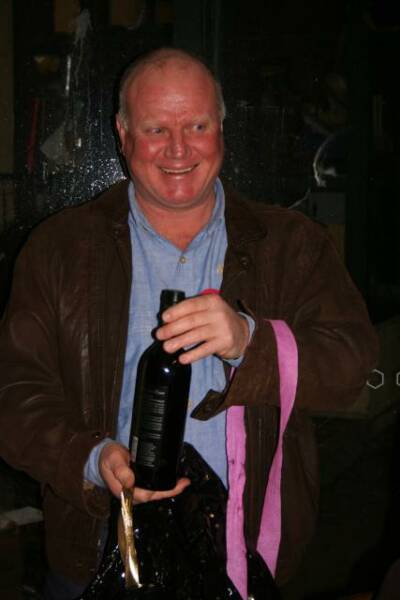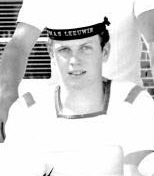 Hi Midge,

How you doing?  You may not remember me, but I was in Fremantle in 1971, but took the optional discharge, back to Adelaide, after 6 months.

My next door neighbours are doing a trip around Oz and are currently staying a few days in Fremantle. This sparked my curiosity so I did a search on HMAS Leeuwin and there it all was.  So many faces I remember including yours!  I have some photographs hidden away somewhere but cannot find them at the moment. When I do and I think any might be of interest I will get them to you.

I cannot remember which Morrow group I was in. I do know that Jim Gripton was from the same suburb as me, Para Hills, and was probably at the same school called Salisbury East High, if that might help you find him.  I don't remember getting off the base much but I do remember going to a house of one of the guys (Millington or Mitchell maybe) who's family lived close to Leeuwin or at least somewhere in Perth.  Really interesting reading the profiles in "My Story".  I always remember you telling everyone that you were related to Henry Mancini but I was never sure if that was true or just a leg pull?  My other main memories of Leeuwin are learning to swim (badly!), my first curry ever which was served up for breakfast one morning for some strange reason, the day trip to Rottnest on the oceanographic ship that I cannot remember the name of now (Endeavour?) and being very homesick much of the time.  I seem to recall I wanted to go on carriers as an "air traffic controller".

I ended up as a keeper at Adelaide Zoo in late 1971, moved to Bristol Zoo in England in 1972 and then on to Chessington Zoo near London in 1973 where I met a girl on a blind date called Jo, who unfortunately for her, is still my girl but also my wife. We married in 1979.  I joined the British Army (Royal Army Veterinary Corps) in late 1978 as a Dog Trainer and dog handling instructor. I had two trips to Hong Kong, the second one for 6 months in 1980 to work on the border with the Hong Kong Army Dog Unit trying to catch illegal immigrants crossing from China. Then I went to Northern Ireland for 3 months as a bomb/weapons search dog handler based near Londonderry until discharge after 3 years service having reached the dizzy height of "acting" corporal.  Then I did a number of office, sales and marketing jobs until our first boy was 2 years old, in 1991, when I became a "housedad".  Jo started an advertising agency then which is still going strong today 17 years later. Since then we have had another 2 boys so I am still a "housedad".  Sam is 19 and in his second year at uni in Portsmouth, Cameron is 14 and Jackson is 10. We live in a small village about an hour south of London by train in the county of Kent, near a town called Tunbridge Wells.

So a quick trip to Europe for a 12 month working holiday back in 1972 has turned into a lifetime in Pommieland. There have been 6 or 7 trips back to visit Oz since then as my Mum (Dad died last year) and two brothers and their families are there. Jo and I bought a unit in Port Douglas back in 2003 but have only been there twice since buying it. With 3 kids it is an expensive exercise to fly to Oz! It will be a place to chill when we retire and the kids have left home.

So that is it.  Give my best regards to any of the guys that might remember me. May I wish all you ex- Navy guys and your families all the best for the future.

Cheers,

Steve Moffatt

(the photo was taken in July 2008 but I reckon I don't look like the skinny kid I was back in 1971!)

Steve Moffatt                                                             Morrow                                                                                       UK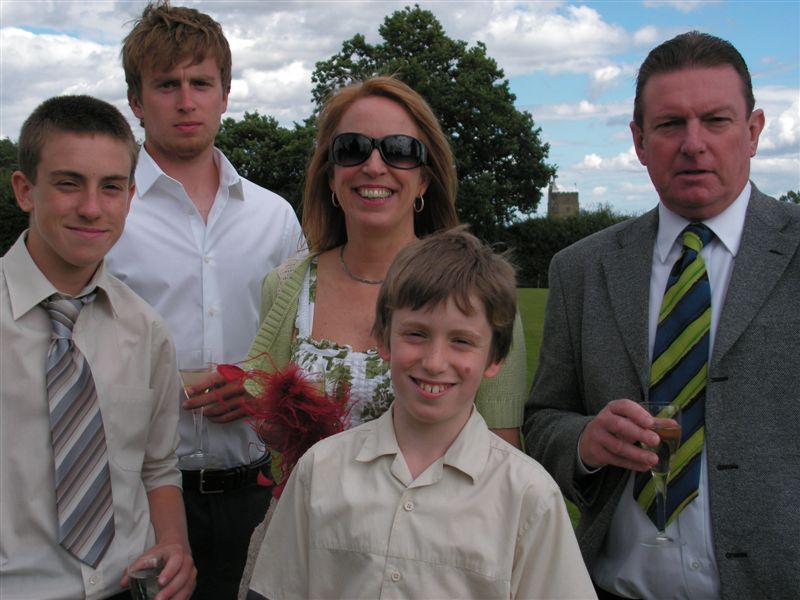 Cameron  Sam  Jo  Jackson  and  Steve Moffatt

Gary Davies                                                           Morrow 2                                                                           South Australia

From Leeuwin went to Anzac for Ord's training then to Cerberus for EMC training, on graduation posted to Albatross working up on the hill, from there to the Swan. Paid off in 75 and joined the Airforce 6 months later.

Airforce Postings;

Edinburgh            SA                                       Recruit

Wagga                NSW                                     Trade training (Instrument Fitter)

38Sqn                Richmond NSW                  Flight Line Caribou

3Sqn                  Butterworth Malaysia        Flight Line Mirage

75Sqn                Darwin Nt                             Flight Line Mirage

38 Sqn               Richmond NSW                  Flight Line Caribou

35Sqn DetA       Darwin NT                           SNCO ic Avionics Caribou

MPLMSqn         Edinburgh SA                     Configuration Control Manager P3 Orion

Discharged in Oct 96 and started working for BOC Medical as SA Technical Officer the next day.

Still with BOC but now look after SA/NT/WA and Tas.

We live in Port Noarlunga SA and have 6 kids between us (Kerry 4 boys, me a pigeon pair) but none living at home.

Our passion is camping and have progressed from tents, camper trailers to finally a full size caravan which we intend to be our full time home within the next 2 years.

Cheers

Gary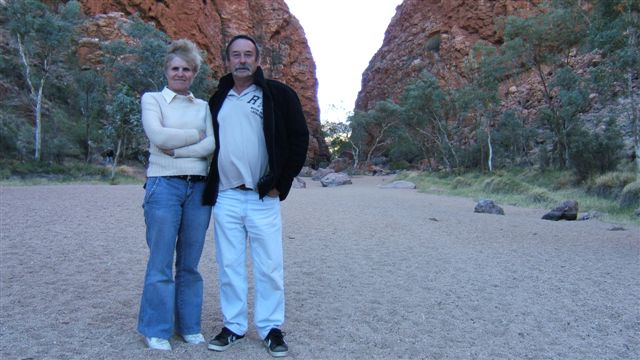 Mark Smale                                                           Marks/Topman                                                                         New South Wales

After being selected as a Topman in June '71  I spent the next 18 months studying to get my HSC and going through various screens to assess your potentials as an officer.   Mostly bullshit!

Was selected to go to the Naval College. Spent 12 months there and decided at the end of '73 that life at sea meant too much travel time away from loved ones and family.  I was not connected with a girlfriend at the time, but figured it likely to happen some time. I was also unsure that the best people were the ones that got the promotions.

Joined Bata Shoes as a Trainee Manager in 1974 and went through a 3 year training course in every aspect of the business. Met my lovely wife Lee of coming up to 33 years, amongst the shoes. Since long hair was the go, I didn't have mine cut for three years after I left.

Spent a total of 14 years with them starting as a designer, then Import Marketing Manager and eventually transferred to Toronto in Canada to take on the global management of their International Branding and Marketing, where we spent 2 years.  Ironic that I left the Navy out of concern about travel and spent the next 10 years away overseas for about 40% of the year. Because Bata had 7000 stores and operations around the world, my travels took me to every continent. Our two boys Luke and Wayne were born in '81 and '84 respectively.

During My time at Bata, I got involved in licensing of entertainment and sports brands. We did Mr Men and Disney kids shoes as well as signing major athletes and sporting organisations including sponsorship of the World Cup in Mexico in '86 and Cricket's World  Cup in India in 1987.

Me with my head of design in Canada discussing new sportshoe product.

I left Bata in late '87 and returned to Aus so that our boys could get to know their grandparents, cousins etc. After 18 months with Pacific Dunlop, was invited to join Warner Bros. and shortly afterwards took over their Australian Consumer Products office. During this time we launched the first and second Batman movies, built and launched Warner Bros MovieWorld and re-launched Looney Tunes and the Bugs Bunny Show with Sophie Lee as well as a number of other film, TV and music projects. We also managed Major League Baseball and National Hockey League in Australia.

Me Lee and my two boys with Sophie and cartoon legend Chuck Jones on the Bugs Bunny Show set in 1990

        Me in Dallas sharing a beer at a Bugs Bunny Convention. Bugs is the one in the costume

                              Me and Lee (far Left) at the Batman launch we held in Melbourne

After 4 years with them where I got a taste for the entertainment, in 1993, I left to set up a sports and entertainment marketing consultancy.  During this time I provided consultancy for a number of companies. The ACB was one and I also organized all the media, sponsorship and licensing coordination for the Presidents Cup Golf for the US PGA Tour when it was held in Melbourne. I was also involved in the development of some TV programs which were sold here and overseas.

During this time my clients were increasingly Sydney based. Because of this and an investment in a confectionery business, we moved to Sydney in 1998.

Unfortunately, The confectionery business went down the tubes after 18 months leaving us practically broke.

A short time later, I was offered a job as Group Executive Producer for one of Sydney's largest visual effects, 3D animation and TV network branding companies. I spent 6 years with them and during this time developed and / or produced many TV commercials, TV networking branding jobs, 3D animations series as well as VFX for film and TV for Aus, Japan and the US. I spent 4 years as a member of the marketing board for AusFilm - the industry body which was the industry group that was responsible for helping attract major productions like the Matrix and Star Wars movies to Australia. 

After spending 6 weeks helping set up a New York office for them I returned to Sydney only to discover they had sold the business whilst I was away. So I left.

I then managed a local advertising agency for two years who handled all of Sony Pictures and Sony Home Entertainments advertising as well as the post production for the Association of Surf Professionals event coverage of pro surf events around the world.

For the last two years I have been heading up the communication and digital business for a global company who specialize in promotions and premiums. Amongst other things we produce over 45% of the McDonalds Happy Meal toys worldwide - making 1.6 billion toys last year. I handle websites built from Australia for McDonald's and other major companies in the US, Latin America, Asia Pacific, Japan and Europe.

We are blessed with two wonderful sons – Luke (with me below) who is a film and TV editor at Fox Studios in Sydney.

And his younger brother Wayne (seen here with Lee), who suffered from a severe back problem for over 8 years and has recently recovered enough to sells his creative services over the net to such people as Michael Katsidis (ex World Boxing Champion) for whom Wayne designs logos posters and promotional materials for up and coming fights in the US.

Neither are permanently attached, so we are still waiting on grandchildren. That'll come one day.

                                                  Great to connect up with everyone after so long.